Peru – the Mountain Biking promised land?
Described as one of the most difficult, yet beautiful one-day mountain running races in New Zealand, the Motatapu Adventure race held each March is not for the faint hearted!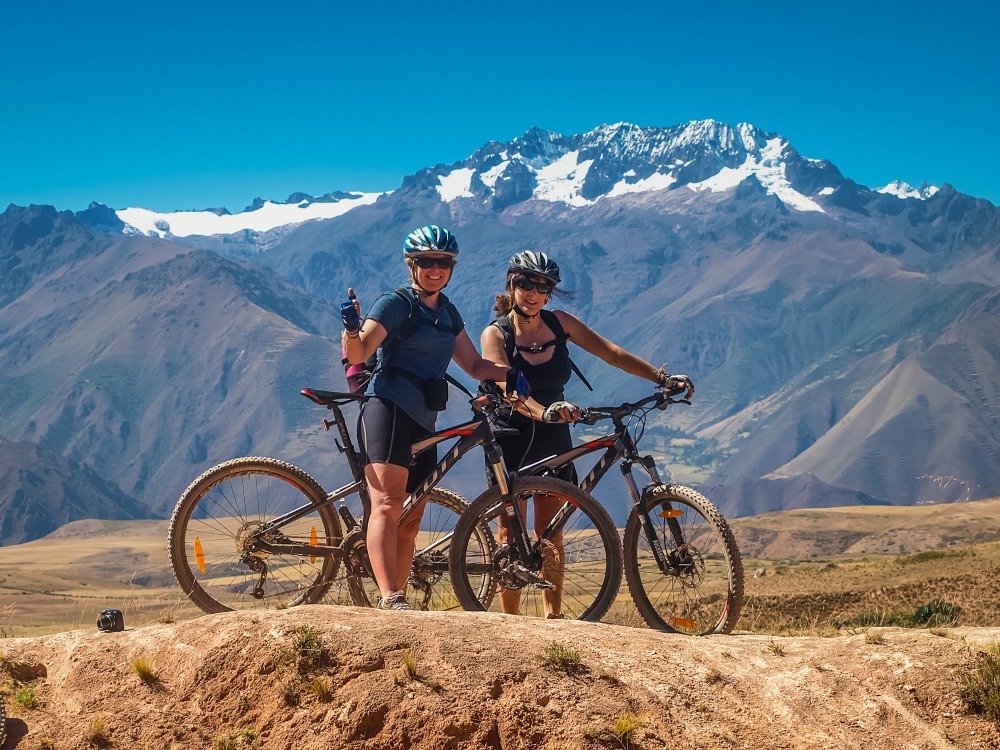 Fortunately for us biking nuts, organisers Iconic Adventures also includes a 47km mountain biking race on the day - thousands of people have taken part over the past few years. As a part of the annual event a magazine is put together for the participants, and last year Katy was invited to contribute an article about Aspiring's mountain biking tours in Peru! Here's the full story:
The plane breaches a narrow gap in the Andes and Cusco suddenly appears below us - a wide, flat dustbowl-brown valley filled with a chaotic jumble of tin roofs and mud brick. It doesn't look much like the paradise we were promised.
But just lift your eyes to the hills that surround the town – high, steep and riddled with tracks visible even from the air - to start to see what makes Peru a mountain biking Mecca.
In a bizarre twist of history, we have the Incas – a near-legendary race who arose here in Cusco and conquered the entire Andes, but never invented the wheel - to thank. Masterful builders, the Incas constructed towns, temples, and hundreds of mysterious stone complexes of which Machu Picchu is only the best-known. Walking was their only means of travel, and the Incas built to last – so their legacy to grateful mountain bikers is a network of thousands of kilometres of packed dirt tracks, stone roads, and stairways riddling the mountains.
To quote a local aficionado, 'the Incas didn't invent the wheel, but they invented single track.'
These days, roads lumber up and down the mountains and passes, faithfully shadowing single track that charges straight down through the guts, providing alternatives for every range of ability. In June 2010, I set out to explore this high-altitude playground with three other intrepid Queenstownites: Honor Mathieson, Susan Todd, and Rachel Rose.
A half hour's drive uphill into Cusco's rural outskirts brought us to the beginning of our first ride, Yuncaypata. Popular with Cusco's growing band of bikers, the start is recognizable by its large sign begging 'Señores Bicicleteros' to slow down when they go through villages so as not to run over the free-range chickens pecking the dirt streets.
Cart tracks and cow trails took us through farmland, steep-sided gullies and forest, passing half-uncovered ruins, small stripy pigs, unexpected drainage ditches, a series of roller-coaster gullies and a jump park built by a local club. After an hour or so of constant downhill we popped out into colonial, cobbled Cusco itself. This ride finishes by hurtling you down a flight of stairs and suddenly out into a populated plaza - to the wonderment of little old ladies selling ponchos and the tourists buying them.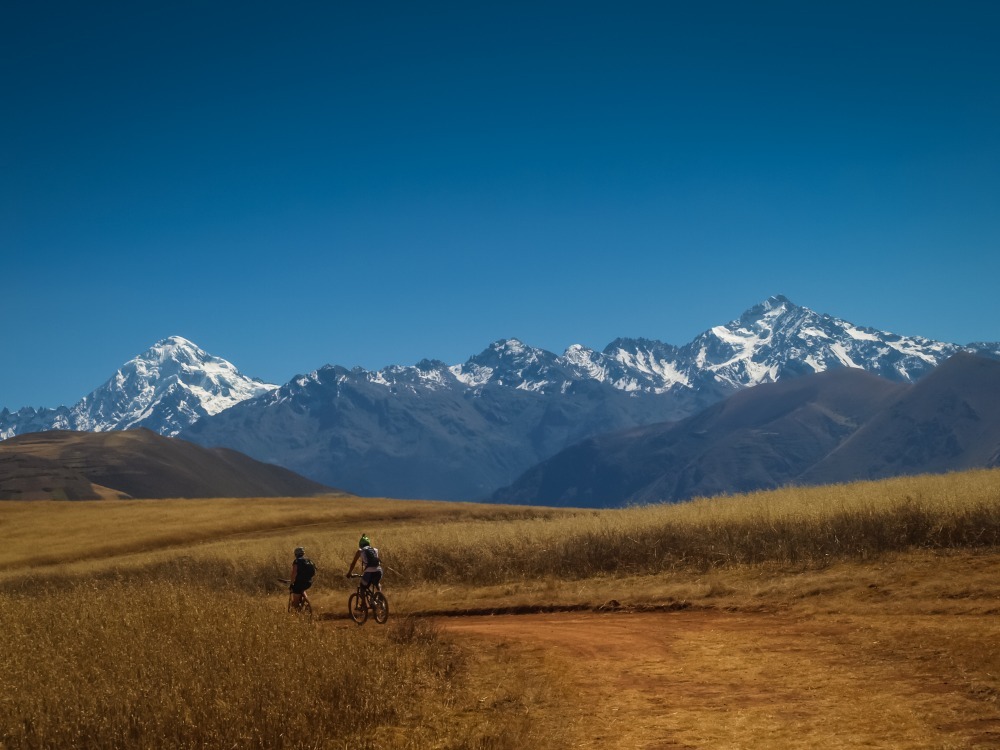 We went straight back up to the top and came down by a completely different route. You could spend your life on this hill, but we were headed for Pisac, 40km away in the Sacred Valley of the Incas. Getting there was an adventure, as local farmers had blocked the road with burning logs and piles of rocks in protest against an irrigation tax. Vehicles weren't getting through, but the sight of four Kiwi female bikers took everyone aback so much that we got past the blockades, probably breaking some land-speed records in the process.
We were on our way to the remote Lares Valley. Just a couple of hour's drive beyond well-touristed Pisac, it's a land that time forgot, where locals scratch out a precarious living raising crops and animals at a rocky, arid, 3800 metres+, and life has hardly changed since before the Incas.
With our brief experience of mountain biking around Cusco, we were already convinced it was the paradise we were promised. With riding that good only 20 minutes from home, why bother driving three hours to ride somewhere else? We spent two exhilarating days finding out. The scenery (not to mention the altitude) was breathtaking – endless electric sky, blue-white snowcapped peaks, forested slopes and open hills dotted with flocks of llamas, stone farm walls and thatch-roofed houses.
The biking was better. Section followed section with incredible variety – tussocky hillside, sinuous cliff-hugging dirt, fast-flowing cart tracks, loose gravel and slickrock riverbeds, and miles and miles of winding, droppy forest trails. As always the bus followed on a dirt road that provided the perfect chicken route for when the going got tough. The tracks we rode were not formed for biking, but carved out by locals and animals. The only constructed features we saw on the whole trip were the race routes of Yuncaypata and the legendary Mega Avalanche (more on that later.) There were moments (falling into mud, extracting bike from mud, falling straight back onto llama dung…) where some built track would have been a welcome sight.
It's hard to generalise about the terrain on the trip because it was so varied, but on the whole it's tougher than Central Otago, with more and looser rocks. There were moments in Lares where the scenery was surreally similar to home – negotiating narrow, muddy track with yellow grassy hill above me, prickle bushes below me, and a cow suddenly appearing around a tight corner, I could imagine Skippers Canyon was just over the ridge.
As the sun went down we rolled, grubby and tired, into the tiny town of Lares - an unpromising rural outpost where the Inca language, Quechua, is more widely spoken than Spanish, and everyone goes to bed when the sun goes down. We couldn't believe our eyes when we hit the local hot springs, where we were to camp for the night. Perched on a cliff above a raging river, naturally occurring thermal hot springs have been tamed and landscaped into a complex that's about as close to heaven as a tired, hungry, biker can come. We soaked our aches away in the steaming pools, looking up at the stars and keeping hydrated with plenty of beer, before eating one of the best dinners of our lives – it turned out our lovely bike mechanic Miguel had hidden talents as a barbecue chef.
It was just one of many great moments in food, which is an obsession in Peru. A taxi driver in Lima put it perfectly: 'When everybody is talking about food, you know you're in Peru'. Practically unknown in New Zealand, Peruvian cuisine is making noise on the world stage and is the fastest-growing restaurant cuisine in the USA. We ate our way through it in funky expat cafes, grimy local dives, roadside stalls, and elaborate, three-course Andean-European fusion dinners. Lechon (suckling pig), aji de gallina (chicken with a satay-like sauce and the ubiquitous potato), and ceviche (raw fish marinated in lime juice and hot chili) were some of many highlights.
One of the things that makes Peru's cuisine great is the sheer variety of produce on offer – this is a land with every type of terrain, from the world's driest desert to windswept, freezing altiplano (high plain) and a big chunk of Amazon jungle. There's farmed land at every altitude from zero to 4600 metres, so they grow everything.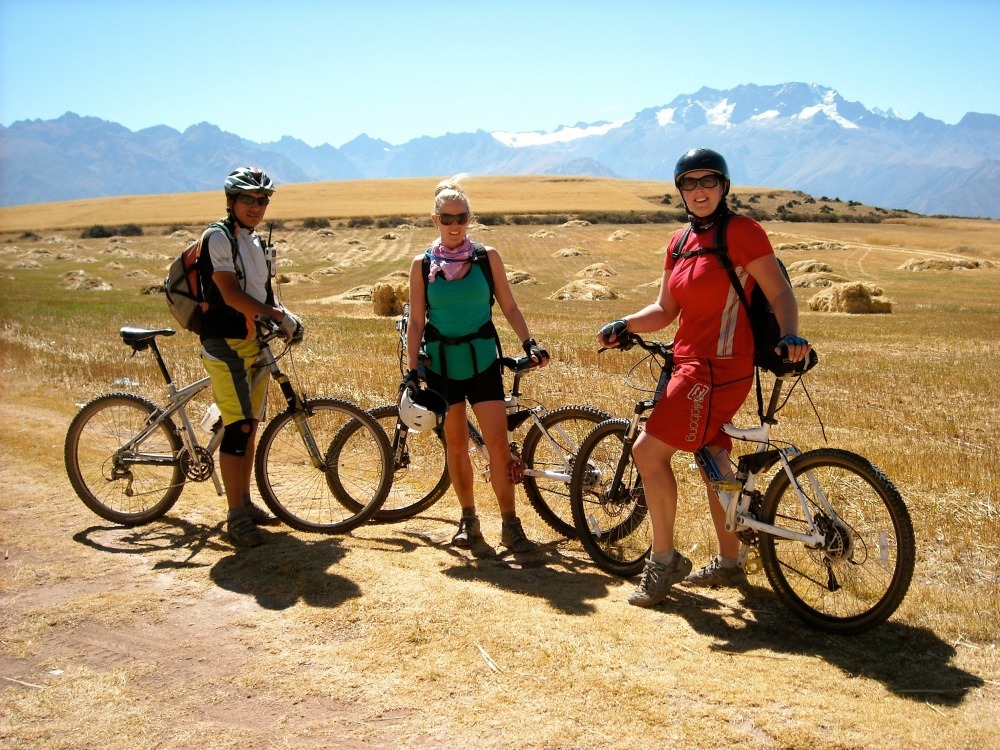 The Incas clearly appreciated a good feed. At Moray, near Cusco, we saw where they dug terraced amphitheatres into the side of a hill, planting different crops on different levels. By taking advantage of micro-variations in altitude and climate they managed to grow everything from potatoes to avocadoes in this one tiny area.
Moray is the start of one of the sweetest mountain bike rides in Peru: an hour or so of flowing, easy drop, interspersed with challenging cliff-side hairpins and rock features. The background was distractingly spectacular - range after range of razor-backed mountains towering over the green and fertile Sacred Valley.
At the bottom, an amazing sight awaited us. Salineras is a still-working Inca salt factory – a patchwork of pools, walls and dams carved into a mountain side to trap a naturally-occurring salt water spring. The process was fascinating, and the colour contrast of the white, salty embankments, eerily still pools and endlessly-blue, dry-season sky was weirdly beautiful.
We were already convinced of Peru's mountain biking glory by the arid alpine terrain we'd experienced. But as we set off towards Machu Picchu, we were about see Peru's other side - literally. Cusco's location only kilometres from the dividing ridge of the Andes means dry forest and rocky hills on one side, and the sudden, 3000+ metre plummet into the lush Amazon on the other.
We started riding at Abra Malaga, a 4350-metre pass where we eyed the snow on the surrounding hills and our frozen fingers struggled with buttons and zips as we rugged up for the ride. Then we jumped on our bikes and simply dropped off the western side of the Andes, shedding clothes all the way as we swooped and whooped our way down a 1500m+ drop on the road to Santa Teresa.
This route is deservedly popular, both as a great ride and the cheapest way to get to Machu Picchu. We gave thanks for our well-maintained, double-suspension Kona Coilers as we flew past penny-pinching tourists – the only other bikers we shared track with on the whole trip - struggling along on some of the dodgiest bikes we've ever seen! In fairness, you don't need double suspension to enjoy riding this road, about half of which is paved and all of which is fast, easy downhill that brought out the speed freak in us all. Just as well it's easy riding - it was hard to take our eyes off the scenery, changing from moment to moment as we descended from icy alpine desolation to steamy, lush high jungle in less than 30 kilometres.
We went for a different kind of adrenalin activity the next day – the renowned Cola de Mono zipline, a series of six flying foxes strung across the dizzyingly vertiginous Sacsara Valley. Whizzing back and forth with jungle and banana plantations below and snow-capped mountains just across the way was a powerful visual reminder of the steepness of the Andes.
Machu Picchu was just around a bend in the river. There was no way the hordes of eagle-eyed, whistle-happy security guys were letting us in there with bikes, so we caught an early bus up to watch the sunrise from Inti Punku, the aptly-named Sun Gate. Pre-dawn, Machu Picchu slumbered quietly below a fluffy white blanket of cloud. As the sun rose and gradually burned off the mist, the massive complex emerged from its dreamland and took solid form below us. Magic. We spent the day exploring its nooks and crannies with a passionate local guide, Leo "Chickenlegs" Garcia, and undertaking the heart-in-mouth climb up Huayna Picchu, the precipitous rock tooth that rises straight up out of the ruin.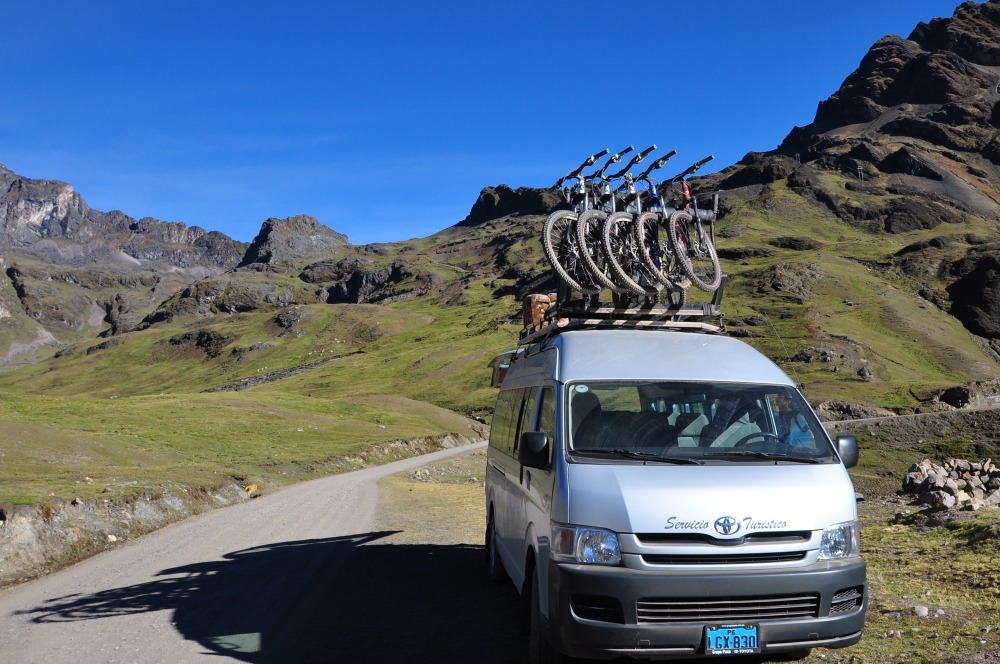 With just one more day to go, we caught the train to Ollantaytambo – a tiny, cobbled maze of alleys, patios and plazas nestled beneath two Inca fortresses, with still-working Inca irrigation canals bubbling through the streets. It was charming and fascinating, but we couldn't wait to get to the next ride: the course of the biggest fixture in the Peruvian mountain bike calendar, the annual Mega Avalanche race, which attracts top international competitors.
We were promised that this would be best ride of the whole trip, and we were prepared to believe it – how can you go wrong with 20km straight of non-stop single track?
The top section was do-able for all of us – bitten-out llama tracks through open grass, cropland, and bumpy ploughed fields where farmers and their oxen pulled wooden ploughs. Lower down it got steeper with some scary vertical and river crossings. Our guides knew our ability levels by now and told each of us which sections we should do on the paved road that zigzags down the valley, crossing the track with every turn. Three hours later we reached the bottom, in awe of competitors who do it in minutes. It was indeed the best day's biking of the trip, if not our lives, and left us begging to do it all again. But it was time to head home.
In thirteen days, we'd seen all the sights and had eight days of the sweetest riding imaginable. The steepness of the Andes, the trail-building prowess of the Incas, and the continuing formation and use of tracks by farmers, animals and dedicated locals: it all adds up to mountain biking's best kept secret. Peru really IS the Mountain Biking promised land. Now you know.
--
Katy Shorthouse is the co-founder and director of Aspiring Adventures, an adventure tour company running award-winning trips to Peru and other destinations. Find her on Google+ and Facebook. As well as running adventure tours, Katy is also a Peru guidebook author, mother, and avid hiker, skier and mountain biker.