My Sacred Valley MTB adventure
This is a story from Jose, an Aspiring Adventures guest who joined us for an MTB ride in the Sacred Valley. Here's what he had to say about his experiences exploring Peru by bike with us!
Many people think that the area through which the Urubamba river glides north of Cusco in Peru is called the Sacred Valley because of the many ruins and possible holly places that the Quechua people left there (Quechua being the actual name of the people while Inca was the name they gave their emperor). Truth is the Sacred Valley was Sacred to the Quechua because it was a fertile land that provided much food. Even the famous ruins of Ollantaytambo in the valley were possibly an agricultural site and not a fortress as is often believed. Cruising through the valley you can still see the many plots of land giving potatoes, quinoa, and corn.
It's hard not to think of this place as sacred. After all when you stand on a dirt road with a lush valley in front of you and 12,000 foot peaks all around you capped in snow it is awe inspiring. Even better when you are about to ride a bike down that dirt road and you can't count the number of foot trails and paths carved in the mountains at more than 10,000 ft. For some reason it feels like a bike is the right mode of transportation to enjoy the valley. Fast enough to explore it, yet slow enough to really take it in.
Our adventure began in Cusco where a guide and a driver from Aspiring Adventures picked us up from our hostel. They drove us down the mountain and into the rural area around Chincheros onto a small dirt road at the edge of a town. There with glaciers off in the distance we started our slow roll. I am not a slow roller. I am not fast by any means but most of the times when I get on the bike I am out to get a good sweat. But this was something different. It was like a glass of excellent wine that needed to be sipped. It was a ride that begged to be taken slowly.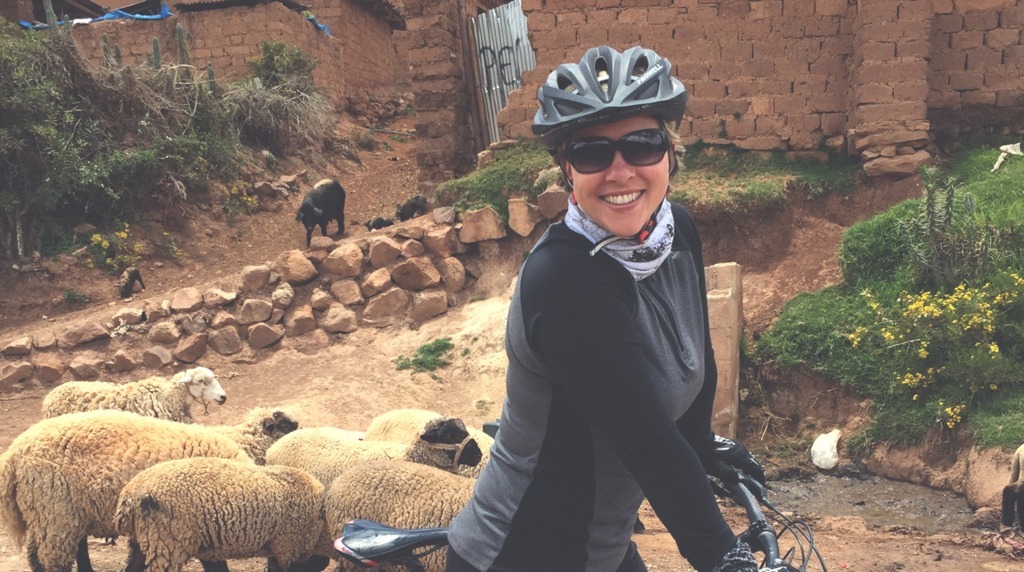 Only at that speed could my wife and I really appreciate the sacredness of the valley. Small children waved at us as we passed through the village and onto the rural roads surrounded by farms. Potatoes seemed to be everywhere but in Peru, calling a potato just a potato is irreverent and vague at the same time. The Quechuas boasted thousands of species of potatoes and most of them are still grown around the valley. The first part of the ride made me think of a black moon. Tilled soil all around us with tractors, mules, and farmers here and there going on their business hardly noticing us at all.
Our first stop was evidence of the importance of agriculture to the Quechuas in this valley. Moray can be described as an agricultural laboratory. Three large circular remains can be seen, like huge craters. Each one consists of concentrical terraces with elaborate irrigation systems. The largest of the terraces is about 100 feet wide. It is believed that the Quechua used terraces to induce micro-climates that allowed them to expand their agricultural knowledge. Because of the way the construction is oriented to the prevailing winds and sun sine, from the top of one of the terraces at Moray to the bottom, one can find a difference of almost 30 degrees F!
All over their kingdom the Quechua left terraces such as these, some of them still in use by present day farmers. The Quechua also used terraces to slowly acclimatize crops to higher altitudes and vice versa. They were so successful that you can see coca plants (traditionally from the jungle lowlands) growing at more than 12,000 ft in Machu Picchu. This is also believed to be the reason for the many potato species.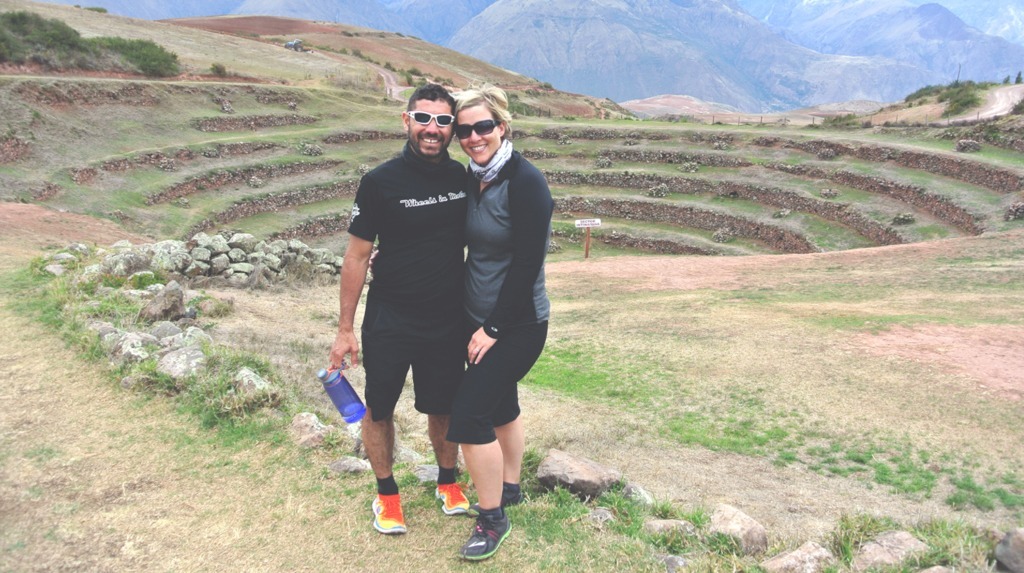 Our bike tour then focused on enjoying the terrain. Single track took us mostly downhill through small farms and towns until we stopped right around the town of Maras for what had to be the best picnic I have ever attended. Our guide and driver set out vegetables, potatoes, and chicken that could have featured on most restaurants in the U.S.
Then it was time to continue our mostly downhill single track. The terrain was perfect for the bikes but we had to share a couple of spots with some horses. The tour ended in an awe inspiring working mine. But this is a different kind of mine. For hundreds of years (since before the Inca Kingdom) a natural spring bubbles from the mountain and slowly makes its way down to thousands of small pools dug out on the side of the cliff towards the river. There the water is allowed to evaporate living behind salt that is then farmed. The water and sun do most of the work. Three types of salt are sold there. After evaporation starts, small salt crystals form on the top of the pool. This is called Flower of Salt (Flor de Sal) and it provides slightly different taste and texture. Larger crystals are also collected later in the process that resemble our coarse salt at the super market. Pink salt is also recovered later and as the name suggest it has a slightly pink coloration.
After walking around the salt pools we rode our bikes back to meet the car on the road for our quick drive back to Cusco. I have been blessed by ridding my bike in many places of the world, from my home country of Costa Rica and its lush mountains, to the far flung dirt roads of Liberia, West Africa, to the desserts of Nevada. But here in Peru it was a different experience. It was not about hammering or sweating or seeing how far I could go. It was truly about being there, and the bike was just a friend helping me out. It was more than an adventure, it was a lesson on what slowing down can show you. It was an immersion in a sacred place, where a bike was more than fit to enter not just as a mode of transportation but as an appropriate part of the rhythm, flow, and ethos of the place. It was a time for forgetting my obsessions with competition, training, gear, and data gathering that can end up polluting what a bike ride is. And it was a reminder of why I love bikes.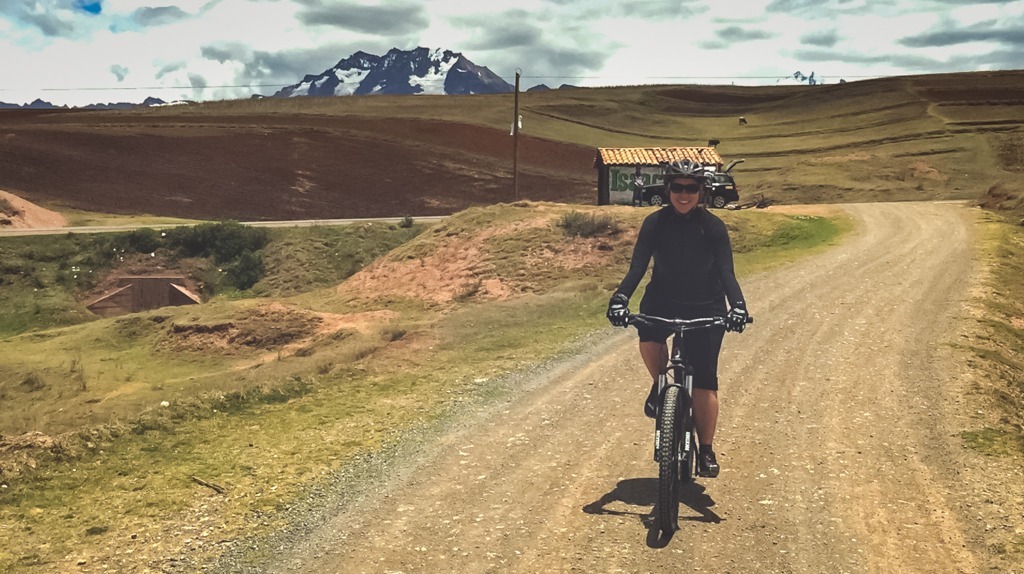 I have spent several weeks in Peru since, working in the high mountains with different communities on sustainability challenges. Almost every day there, I look at the single track and dirt roads and think "Man, I wish I had my bike!" But not for a work out, just for a ride…
– Jose Alfaro
Thank you for sharing the experience of your Peru holiday with us and our readers, Jose! We were honoured to help you and Lindy plan your Peru MTB tour! Kind regards, Steve Wilson, Aspiring Adventures.