Family vacation of glory on the Peruvian coast
The February family beach holiday is a fixture in Peruvian culture. This year Nina and I spent a week working on our tans in Cerro Azul, a couple of hours south of Lima, and it was GREAT!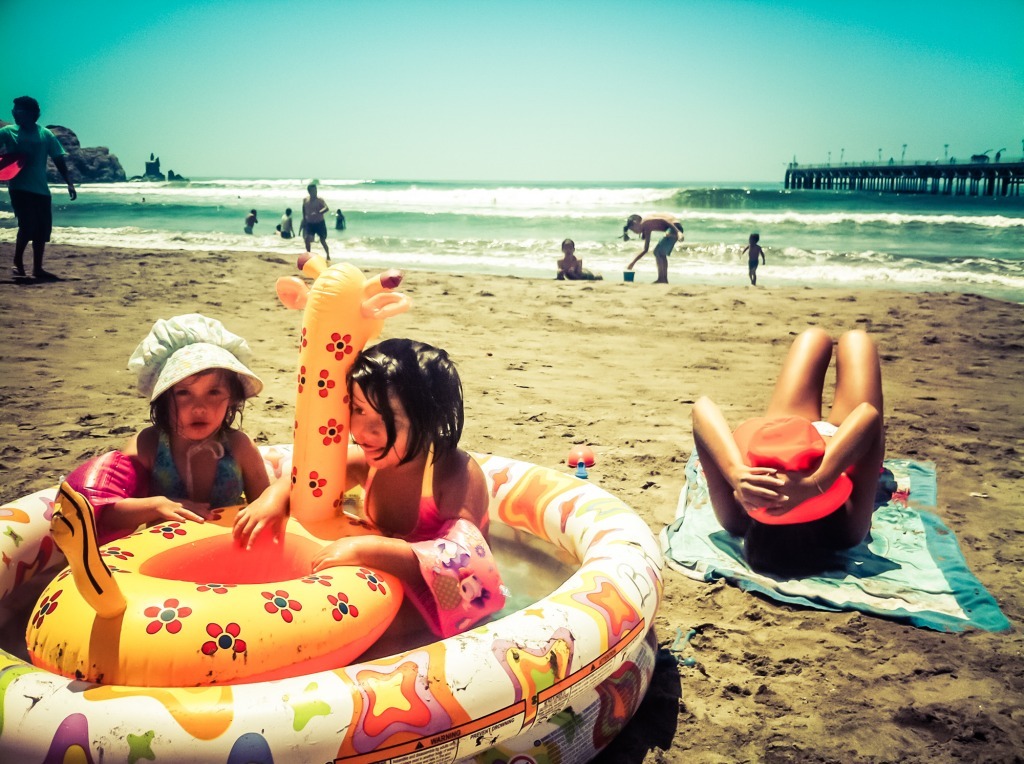 The Peruvian beach experience is amazingly different from the Australian version. In Australia, you head for a pristine stretch of deserted paradise, shlep towels, umbrella, picnic and an cooler across hot sand, and set up for the day. In contrast, the typical Peruvian beach is neither pristine nor deserted. But there is no shlep.
Here's how it works: you stroll to the beach carrying only towels and some small-denomination cash (figuring out where to store this inside your bathers is about the hardest part of the whole experience). On arrival, you select from the array of pieces of infrastructure available to rent – we rented a beach umbrella and a paddling pool for a total of s/13 (about US$4) each day. The proprietors do the hard work of filling the paddling pool with seawater, and when it's time to go home, you just get up and walk away. The paddling pool was genius – it kept the kids happy and was also super-handy for us when we needed to cool off and were too lazy to walk the 20 metres to the sea. I am totally won over to this way of doing things!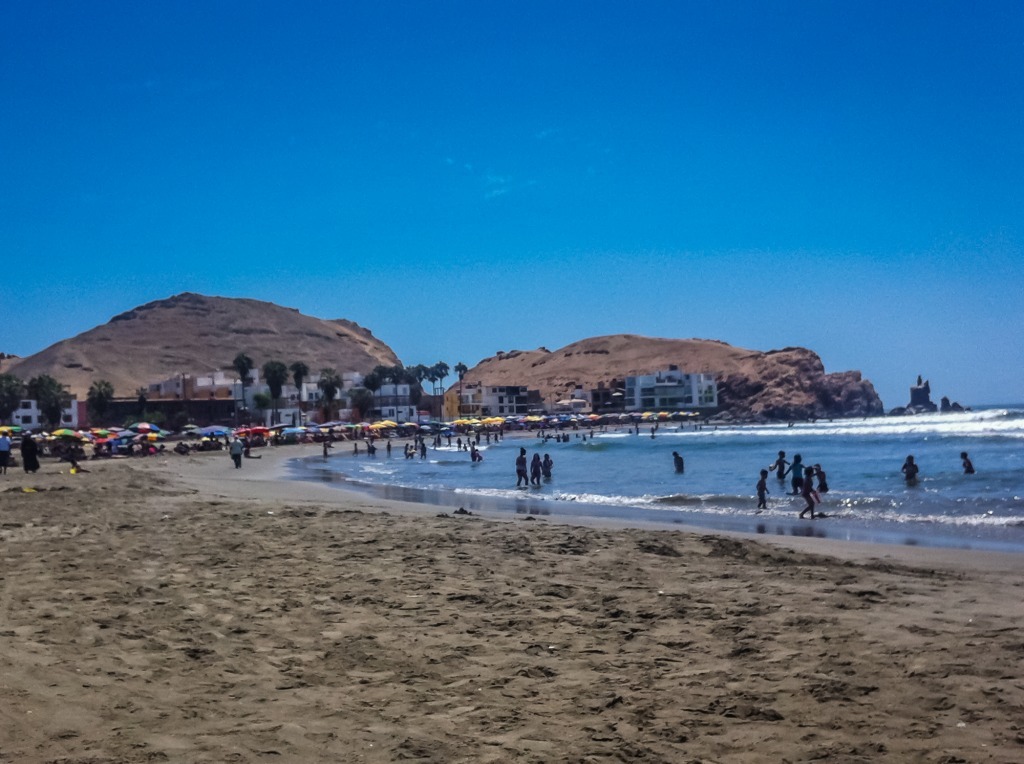 But what about the esky and the picnic, I hear you ask? This is the most amazing part of all. From about 11am on, waiters from nearby restaurants start coming by looking for orders. So you can have a three course meal and as many cold beers as you like, without even hopping up out of your banana lounge! (We didn't actually have banana lounges and had to lay on our towels because we were too tight to shell out the extra 4 Soles (about US$1.50) each day. Next time I'm totally going for it!). The food even comes with a nifty, practical little short-legged table and an ice bucket.
We also bought ice creams, biscuits, and sunglasses from passing vendors. Like a good Australian mum I had shlepped Nina's bucket and spade from Cusco (indeed, in the first instance from Australia), but I should have saved myself the bother and bought it for her from the comfort of my beach umbrella. We also passed up on the clothes, school supplies and traditional blessing ceremonies that we were offered – one has to draw the line somewhere.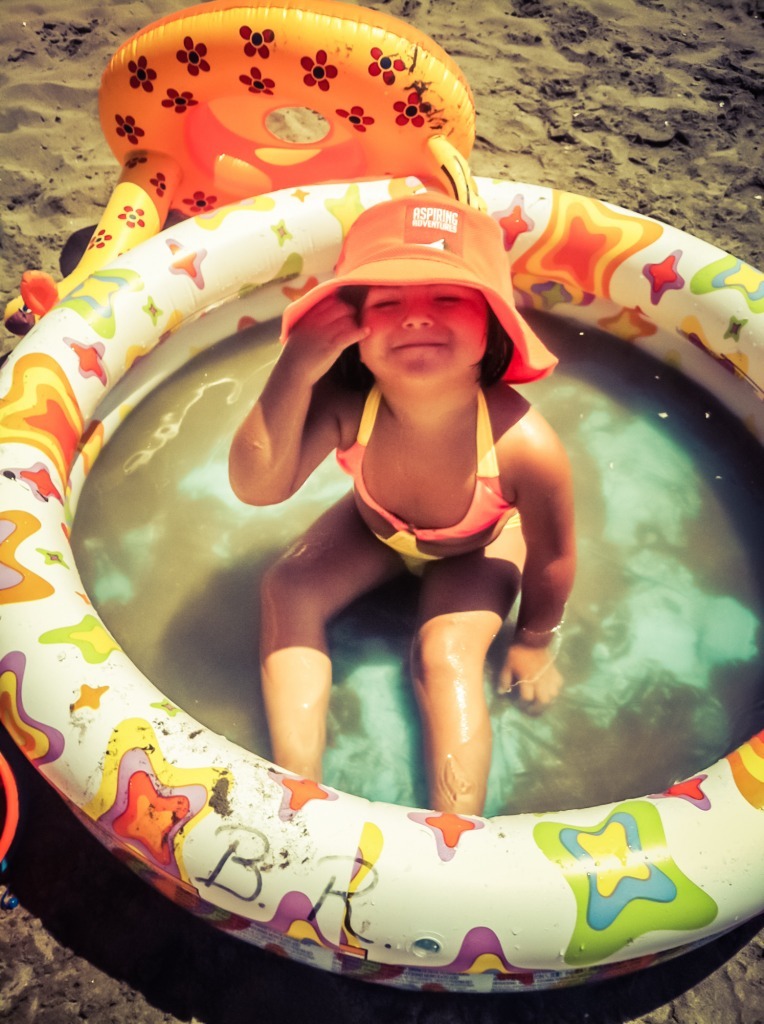 In the evening we ate dinner at pop-up barbecue restaurants in the Plaza de Armas, while the sun went down and sunburned kids roamed in packs through the square and scaled the flagpoles. Then we went to sleep in our sandy beds and got up to do it all again next morning. I love to think that this beach holiday tradition is part of Nina's childhood. It's different from the one I grew up with but it's just as awesome.
--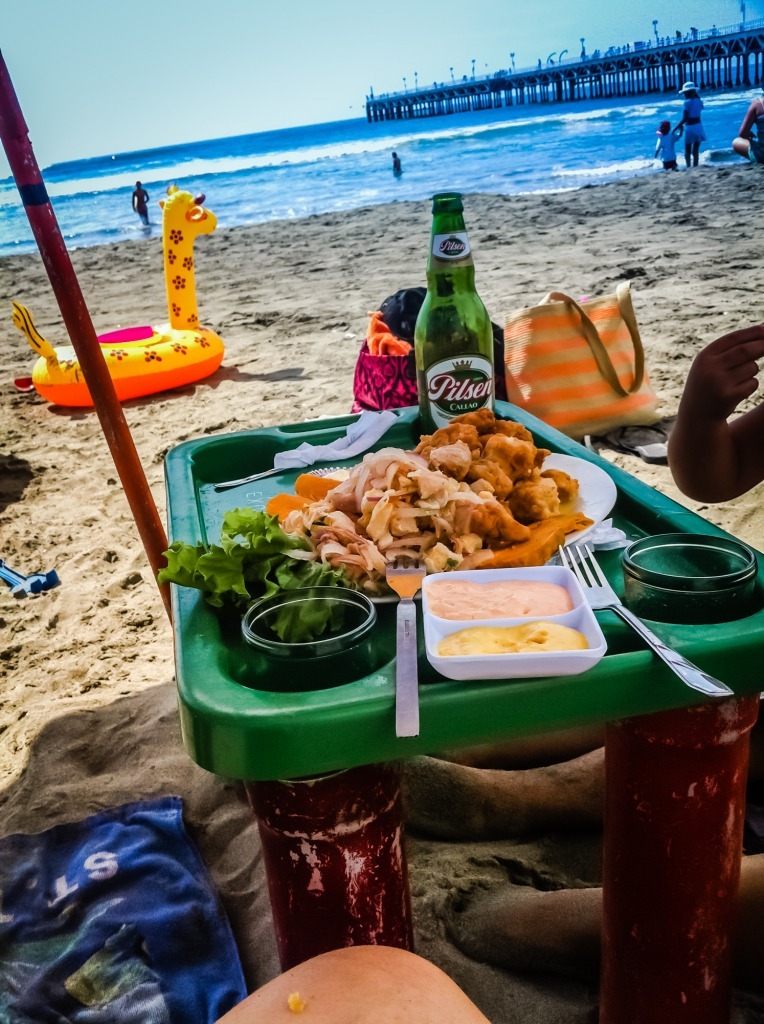 Katy Shorthouse is the co-founder and director of Aspiring Adventures, an adventure tour company running award-winning trips to Peru and other destinations. Find her on Google+ and Facebook. As well as running adventure tours, Katy is also a Peru guidebook author, mother, and avid hiker, skier and mountain biker.