My family adventure in Peru
This July I went on a holiday so fun that I feel like spending this afternoon reliving it, so here I am.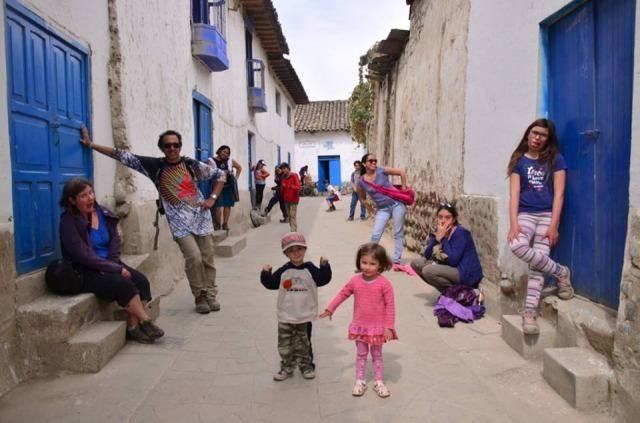 I'd been talking up a big camping mission combining Paucartambo and Manu in the Amazon jungle for months, and I ended up convincing a group of friends to come along – we were 11 adults, five teenagers and two toddlers (including my three year old Nina).
We borrowed another friend's clapped-out van and all squashed in and headed off. At the first stop we discovered neither of the back doors opened so the only way in and out was by climbing over the front seats and out the driver or front passenger's door. It didn't take us long to resort to holding the littlies out of the window to pee.
First stop was the Fiesta de la Virgen del Carmen in Paucartambo. (Arguably Peru's greatest festival – Aspiring runs a trip to it every year).
From where we camped, even those of us who had to stay back and look after kids could see the incredible fireworks display on the first night we were there. I love fireworks and every time I see the annual fireworks show at Paucartambo, it's the best one I've ever seen.
Then followed a couple of days of mooching round watching parades, grudgingly parting with more and more small change to keep the kids happy at the fun fair, checking out the amazing costumes and dances, and singing around the campfire at night.
I love taking little kids to these big Peruvian fiestas – their wonder and excitement is beautiful to see, and adds to mine. The guerilla was a big highlight, as always – I just wish I could describe it! Guerilla means little war, and this one represents the conflict between locals and conquistadores, and also between good and evil. It features, among other things, dancers, jesters, devils, lawyers, silly string, practical jokes, and a holy virgin, and I guess you would have to call it a parade if it wasn't so interactive. Everyone gets showered with flour (and worse! We had no access to a shower for the next two weeks, so we were stuck with beer-smelling hair!) Braver souls get pulled out of the crowd and loaded up into seatless bikes, homemade carriages, and other random rickety contrivances, and pushed around by the jesters.
A couple of days in Paucartambo was enough for us adults to unwind and feel ready for the next stage – a full-on camping mission into the Interior! We drove over the top of the Andes and then down, down, down into Manu, one of the most biodiverse and - not coincidentally - least populated regions in the world.
We explored highways and backroads (our clapped-out van turned out to have plenty of guts, though we did think we were stuck in rivers quite a few times). We saw foxes, leaf cutter ants, rare birds, and the world-renowned sunrise at Tres Cruces. We hung out in an indigenous village. We camped at hot springs and waterfalls. At one point we attempted to camp on a football field but were moved on by a strange, deaf-mute man of questionable authority – that was our only night in a hostel. We swam and hiked – even a three year old will walk all morning if you let them select their own walking stick, go at their own pace, and stop to check out every single twig and leaf!
I think my favourite place we camped in Manu was at a biological research station tucked away up a tributary of the Kosnipata River. From here we hiked through steamy forest to the wreck of a light plane. It had to be the funniest moment of the trip when some of us climbed into the plane to explore and disturbed a wasp's nest – there was much screaming and running around in circles before we realised nobody was in pain. Turns out they were abejas sin aguijón - "stingless wasps" – lucky for us!
The kids were in ecstasies over the huge, clever guacamayos (macaws) that hung around the campsite. At one point I zipped the two toddlers into my tent and headed off to brush my teeth. When I got back, a guacamayo had managed to open the zip and hop in with them! They're still talking about it. (The kids, that is… maybe the birds too, come to think of it.)
When Nina enjoys herself, so do I. Camping is the ideal way for us to spend time together - the one activity (apart from flying kites and dancing to the music of the Wombles) that we both enjoy equally. All the children I know love camping. When they get to run around in the outdoors, they require no other entertainment. They eat everything you put in front of them, and sleep so early, and so well!
Yep, it was an awesome trip. I discovered even more places I love in this region, and am more blown away than ever by its apparently endless diversity. New Aspiring itineraries will come out of this. It's time we started running trips to Manu; it's what we're all about - off the beaten track, kid friendly (friendly all round actually – people in these parts are renowned for their friendliness and hospitality), beautiful, interesting and relatively untouched. I loved it, and I'll be back!
Update, May 2016: Yep, we now run trips to Manu!
---
Katy Shorthouse is the co-founder and director of Aspiring Adventures, an adventure tour company running award-winning trips to Peru and other destinations. Find her on Google+ and Facebook. As well as running adventure tours, Katy is also a Peru guidebook author, mother, and avid hiker, skier and mountain biker.