Macusani - Peru's next frontier...
We just spent the weekend at the First National Congress of Mountaineering and Adventure Tourism, in Macusani, the capital of Carabaya Province in the department of Puno.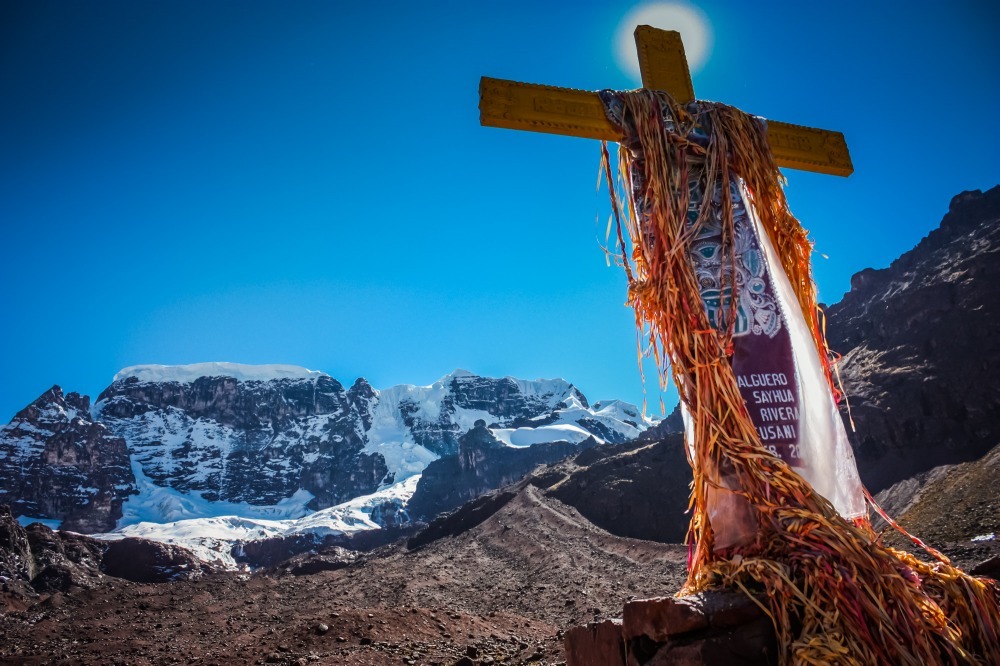 I've been wanting to see Macusani since about April, when in quick succession I heard there was some significant cave art there, and then that there were amazing mountaineering possibilities: a glacier within an hour's walk of the road, a 5,600+ peak that anyone in decent shape could bag, hours of downhill mountain biking, skiing, and all sorts of outdoor activities - though nobody I know had actually been there. I asked around Cusco and nobody had even heard of the place, even though it's the capital of a province and has a population of 6,000.
I tried to go there in July to see about including it in the Lonely Planet Peru book I was writing but the Municipality, who were supposed to be organising things, dropped the ball and it never happened.
Then I got invited to speak (!) at this conference, organised by local enthusiasts (massive hats off to Renzo, a local-born, Huaraz-based high mountain guide) and the development committee of the provincial tourism association, with the aim of showing people Macusani's tourism potential.
I dragged Steve along, as I was fired up about the idea of Aspiring running some trips there. He sportingly put up with three days of incomprehensible jibber-jabber, missed meals, freezing camping conditions, 9 hours each way on the bus, and everyone pointing and calling "gringo"!
On the first morning there were speeches, including mine ("Cultural differences in tourism" - basically 20 minutes of similar material I use when training guides in Peru: it's really interesting stuff, the differences in our perceptions of, for example, time and customer service).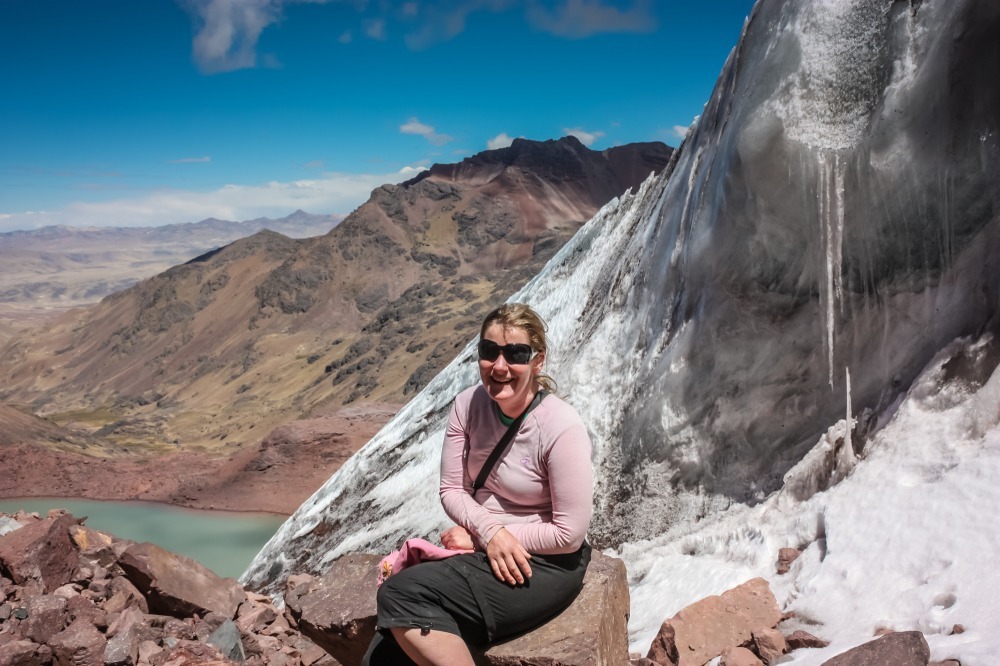 Then we headed up the mountain, Allinqhapaq (Allin Ccapac). Macusani is staking its right to a place on adventure travellers' agendas on this mountain and the one next to it. It's all true: you can hike in an hour (hmmm, let's say 1.5 hours) from the road to the glacier. We stood on it, and saw iced-up waterfalls, and ice walls, and several glacial lakes and all KINDS of scenery. It was awesome, but hard going on loose, dangerous moraine a lot of the time.
On the third day we did a huge daywalk (24km: three hours straight up, to something like 4,400m, then three hours straight down to the town of Ollachea): my legs still hurt, which is why I'm in bed writing this instead of in the street promoting my bar which opens in three days! The hiking is scenic and interesting. Steve was blown away by the stone walls everywhere for holding in llamas and cattle; it's the closest to natural-looking human intervention on the environment you can possibly imagine, and reminded him of the endless stone walls in western Ireland made during the 1840's famine years.
You go through this little village that has an island on a lake with pre-Inca chullpas (burial towers) on it; with pre-organisation, you could arrange to visit the island, and maybe stay with the locals. I forget the name of the village, and this is the trouble and one of the reasons why in the end, we decided to leave it another year or two before setting up a trip in the area: there are no maps, NONE to be had in Peru; if anybody can help me with topographic maps of the surrounds of Macusani and Cusco PLEASE let me know! Available information is all word of mouth, and I forgot to take pencil and paper on the walk (MOST unlike me; I struggled with altitude-dopiness on this mission); we'd have to fly all too blind.
They're going to run a Mountain Rescue course there in April 2010 - the Casa de Guias in Huaraz, the only school in Peru and maybe even South America that certifies mountain guides to international standards, is taking an interest, thanks to the aforementioned legendary Renzo - and I'm going to go, and make some more contacts and look around some more, with a view to running an exploratory trip there in 2011. Local walkers reckon it would be possible to hike in three days from high up near Macusani, over a snowy pass at it must be about 5,000m, and down to high jungle (ceja de selva - eyelash of the jungle, they call it) in two or three days. And you could detour to the top of this peak next to Allin Ccapac that's (for some reason this stuck in my head, the only hard fact I remember from the day) 5,671 metres high: you need crampons, but there's no actual ice or rock climbing required, so anyone could do it and bag a really high peak without technical skills, which REALLY appeals to me.
The appeal to the whole thing is it's so out of the way - we're waiting for the Interoceanica highway, which will go through Macusani, to be finished, supposedly in November 2010, before we try to entice people there. (unless, of course, I can crank up enough interest from intrepid travellers beforehand) truly, if you want to say "I was there first" about the next Huaraz, here's your chance. Drop me a line!! I can't wait to get back there and show this mad, undiscovered, cold, nutty, scenic, ancient, un-tourist-ready place to whoever's up for it.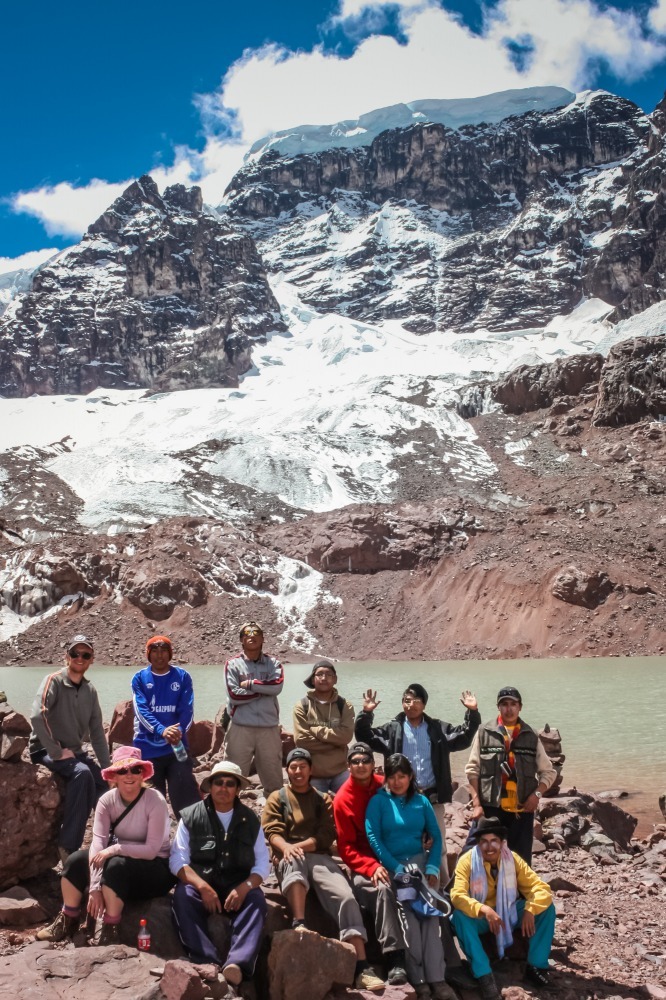 If you have maps or information about the Macusani area, or are interested in joining an exploratory trip here, drop me a line - Cheers, Katy
--
Katy Shorthouse is the co-founder and director of Aspiring Adventures, an adventure tour company running award-winning trips to Peru and other destinations. Find her on Google+ and Facebook. As well as running adventure tours, Katy is also a Peru guidebook author, mother, and avid hiker, skier and mountain biker.